Religion and sexuality often don't mix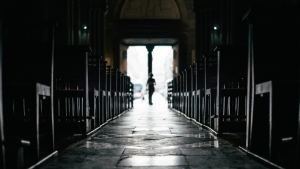 When growing up, most of us viewed religion as a community, and we believed that all individuals – no matter how different they are – were accepted into that religious community. However, the LGBTQIA+ community is learning this is not always true. Religion and spirituality can provide an anchor of strength in our life, but when that anchor is tossed aside, we can lose our support system and almost feel as if we are drowning. Many have been rejected by their community. As a result, studies are showing that a lower percentage of LGBTQIA+ Americans identify as very religious compared to their cisgender heterosexual counterparts.
Why is this happening?
Many LGBTQIA+ individuals are finding they must choose between their religious beliefs and their gender identity because their spiritual community no longer is welcoming. Add to this the family's position – they, too, are anchored to their church, which places even greater emotional stress on LGBTQIA+ individuals. They feel they may be losing their family, too.
Faith is supposed to help us through the challenges we face in life, not make them more difficult.
As a Christian counselor and minister, I understand the complexity of sexual health and religion, and I can help individuals who feel they are losing their faith and their family. LGBTQIA+ individuals can manage this turmoil and come out of it stronger than ever, but it will take time.
Begin by asking yourself:
"How often am I shamed about my identity and how do I feel about this?"
"What are my values?"
"What is important to me?"
"What kind of person do I want to be?"
As you delve into these questions, it will become clearer what the next step is for you. You must be accepted for your authentic self. It is not love if you are distanced for who you are.
God created all of us; we are his children, and we are to be treated with love and respect always. God is our judge and jury, no one else. Follow what God wants for you and be that person. Follow his path.
If you continue to struggle with your faith and your family, I can help you. I can be part of the grieving and healing process for you. I can help redirect you, so you don't feel lost, shamed or stigmatized. You can continue to walk with dignity. You can heal from these hurts through the love of Christ. He did not discriminate. He walked alongside everybody. I can help redirect your path in life so you don't feel lost.
In the meantime, while you decide what is best for you, you may want to consider finding a new community of people who share your values and accept you for who you are. Many religious leaders spread a message of love and acceptance of all people. Explore. Find a supportive friend who will listen. You are not alone. Hearing so many mixed messages and feeling the pressure of changing who you are can be overwhelming. Remember, you deserve to find acceptance for who you are, and feel comfortable with your decision.
Through this process, you may find new, richer friendships. It takes a lot of strength and courage to reach out for answers. That is why a therapist can be a great resource. This is a journey filled with conflicts; keep moving forward until you find peace and acceptance for who you are. God will be at your side through this entire journey.