African Americans distrust the mental health system … how can we fix this?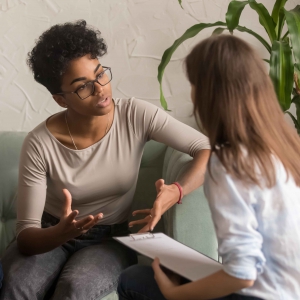 What happens in an African American household, stays inside that home. Problems often are swept under the rug and definitely not discussed in public or with a therapist. No one airs their dirty laundry to an outsider. By doing so, African Americans are acknowledging they cannot handle their own problems.
In addition to keeping problems closeted, there exists a sense of fear and distrust. If African Americans seek professional mental health, CPS or the police ultimately become involved, many families have learned. They come to us for help, believing they have found a safe place to talk, only to face betrayal when CPS comes knocking on their door over an issue discussed in therapy.
Generation after generation, black families have taught their children to be fearful of the world; don't draw attention to yourself and your family. We constantly live in a survival mode. Will my child return home safely? Will the police show up unexpectedly at my house? Families believe the world is an unsafe place, and these beliefs continue one generation after another.
In addition to dealing with the stigma and judgmental attitude of others, African Americans often are unaware they have a diagnosable mental illness because it is taboo to discuss these types of issues at home … or anywhere. As a result, these concerns go untreated and unresolved, compounding the problem even more.
According to Mental Health America, approximately 13.2 percent of the US population are African American. Of this group, more than 16 percent had a diagnosable mental illness in the past year. This means more than 6.8 million African American people could benefit from mental health therapy. In addition, according to the National Alliance on Mental Illness, African Americans make up 40 percent of the homeless population in our country. That's a lot of people who made need mental health services but cannot afford them.
We are supposed to trust the mental health system because it helps people, it protects them and provides resources, but will it really be safe, will it really help African Americans who have no reason to place their trust in a service originated by whites for whites?
African Americans share the same mental health issues as the rest of America, but often carry greater concerns as a result of racism, prejudice, ignorance and economic disparities. There also remains this fear they will not receive adequate help because their therapist is white and may not understand their particular needs.
In addition, mental health therapy is not a priority for most African Americans. Work, family responsibilities and finances overshadow the need for therapy. It is pushed onto the back burner and forgotten.
At The Center for Relationship and Sexual Health, our goal is to create a safe, non-judgmental environment for African American clients to talk freely, honestly and openly with us so you will seek the therapy and help you need. 
We need to move forward as a mentally healthy community. At The Center for Relationship and Sexual Health, we believe treatment is a partnership between the client and the therapist, and it only can be successful with mutual respect and trust.
Author Darcia Miller, LMSW, is a licensed master clinical social worker and therapist with The Center for Relationship and Sexual Health. She has more than 10 years of experience working with individuals and families to help them navigate life in a healthier way. She utilizes a strengths-based perspective, mindfulness-based approaches and Cognitive Behavior Therapy in her practice.